Professional pool table moves and pool table repair in Waukesha
The Waukesha Pool Table Movers have been providing excellent professional pool table moves for years. We have built a solid reputation based on customer satisfaction. We have seen everything and we can assure you that it is almost necessary to have professionals such as us to move your pool table from one place to another. Give us a call to set up your appointment!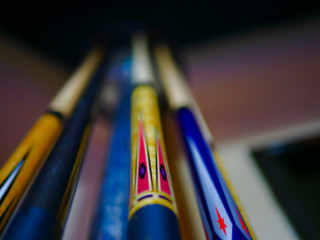 Pool table moves are specialty types of service that are just too dangerous for someone who doesn't have the experience to take care of. Our team of professionals will provide the best service in the area and our workmanship is guaranteed by a national organization.
Trained pool table movers with the proper tools and techniques like our team will always be the best option if you're looking for the best service and guarantee. The reason is that is is just too dangerous to do it yourself or with an inexperienced group of guys.
This doesn't mean it can't be done if you take the risk because it obviously can. Nonetheless, it is always a good idea to have experts come and tear it down, and move it the way they're meant to be moved. One should always be cautious when moving a pool table with anyone else other than a professional because only a professional knows how they should and shouldn't be moved and not many people can consider themselves professional pool table movers.
Be sure you check the measurements of your pool table and intended game room to verify you will be able to actually play the game. You should also check our pool table specifications page if you're interested in a tournament playing experience.
Pool table moves with our nationally backed company are easier than ever, accompanied by a guarantee on our service. Give us a call for more information!
Expert pool table repair plus many other specialty pool table services
Pool table repairs, especially the proper pool table refelting could be an intricate and tedious task for someone with no experience to take care of, therefore this could end in the pool table going out of level or the pool table cloth being ruined. Other major repairs we take care of are the replacement of the rail cushions and pockets.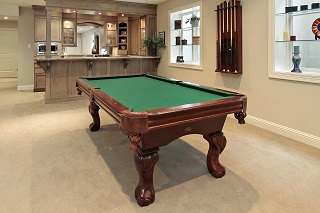 We will need to know specific details depending on the type of pool table felt, pocket style or type of cushion, pictures also help a lot to properly take care of the pool table repair or service needed.
We will properly uninstall your pool table and safely prepare it to be moved. We take the slates from the frame and get the table into a bunch of smaller pieces so they can be safely transported and properly set up at the new location.
We are residential and business pool table movers and can easily adapt to most moving situations. Once at the new locations our team will expertly take care of the pool table setup with perfect leveling.
This means building the table from the ground, make sure it is an accurate level on the surface to ensure a clean install and a perfect playing field. Other pool table services include; complete pool table moves from one house to another, from a residence to a business and vice versa, move to a garage or storage unit, a tear down only, setup or an installation with leveling.
Members of the American Billiard Installers Association, we are a recognized business in our industry.
Key factors that help in determining an accurate quote for a pool table repair and most pool table services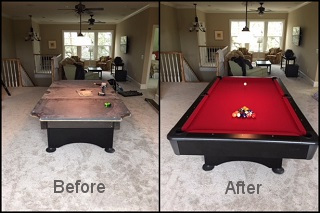 We use the appropriate tools and techniques to provide a high quality and efficient pool table move. The idea is to do disassemble it with ease, so re-installations can be easy and precise. The last thing you want is to damage your pool table in the process. That's what pros are for.
To determine the price of moving the pool table we must take into account the dimensions of the table, the type, and model of table, as some are easier to disassemble and reassemble than others, and any other circumstances and situation of the move.
We may charge extra for stairs when moving a 3 piece slate pool table. In some instances, we won't move 1pc. slate tables, but that's depending on the situation of the move.
Waukesha Pool Table Movers offer services for most types of pool tables. These include moving from one home to another, from a home to a storage garage in the event of wanting it back on the property, from home to business and vice versa. Other services include disassemble, installations, felt replacements, leveling and more.
The process of moving and installing a pool table can be a very dangerous process on your own because of the heavy pieces or the risk of damaging your table, your property or worse, you could end up injured. If this if your first pool table, feel free to check out a chart with the approximate pool table room sizes and ideal pool table dimensions for each room.
A professional certainly will make that risk as small as it can be, by taking appropriate measures to ensure safe, satisfactory pool table services. Contact us to schedule your service we can usually fit you in within a week!